Transition to school, will your child be ready?
For every child, transition to school is a big step. Some children need a little extra help to get ready for and to make that step into big school. Childworks can help. We will assess your child's strengths with respect to school readiness, as well as areas where they may need some assistance. We work with your child's child care centre or preschool as well as their prospective school to make sure your child gets the best possible start to their school career. We are happy to work with private, public and Catholic schools. Of course, we also work closely with families.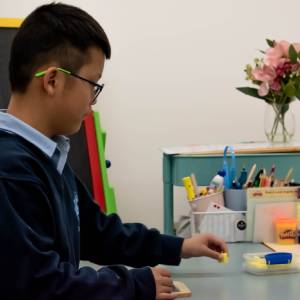 Childworks Occupational Therapists will plan an indiviualised programme for your child to help them to develop the skills they need for a successful transition to school. This does not involve learning letters and numbers but acquiring the basic underlying skills they need to be able to fully participate in the school curriculum. For example, a child who does not have the concept of shapes will have great difficulty learning to read and write letters. A child who cannot concentrate for more than 2 minutes at a time will be very limited in what they can learn in class. Childworks can identify sensory issues your child may have and help the prospective school to modify the tasks and environment at school to ensure your child is able to participate to their potential. For example, some children can concentrate better in class if they have something to play or fidget with. Other children may be particularly irritated by the light accidental touch of other children. These issues can be addressed from your child's first day, to allow them the best possible access to the curriculum. Some children just need a little help with fine motor skills. Childworks can help with concentrated skills training in this area.