We provide focused help with handwriting. Handwriting is still a very important part of your child's education. Many tests including Naplan and the HSC include a component of handwriting. Because children use computers more and more in school as well as play, their ability to produce legible handwriting at a reasonable speed is severely reduced. If your child knows their work but cannot show that they know it, they cannot perform to their potential. The earlier this is addressed the better.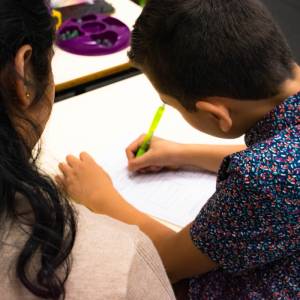 An assessment can determine whether your child will benefit from Occupational Therapy. Goals will be discussed with you as well as the expected time to achieve these goals. Your child's progress will be reviewed regularly to ensure they are gaining the most they possibly can from therapy. We sometimes recommend a break from therapy as children's progress can plateau after a block of therapy. Therapy for each child will differ and your child will receive a programme of treatment, individually designed for them. Because of this, it is difficult to state exactly what therapy will involve but for handwriting, we usually look at pencil or pen grasp, posture, motor planning, motor control, visual perception and letter/number formation just to name a few. We also look at a range of other factors that may influence handwriting, such as your child's ability to maintain concentration.
Childworks can assist your child with the skills, and abilities they need to start handwriting, as well as speed and legibility for children and older students who are already writing.